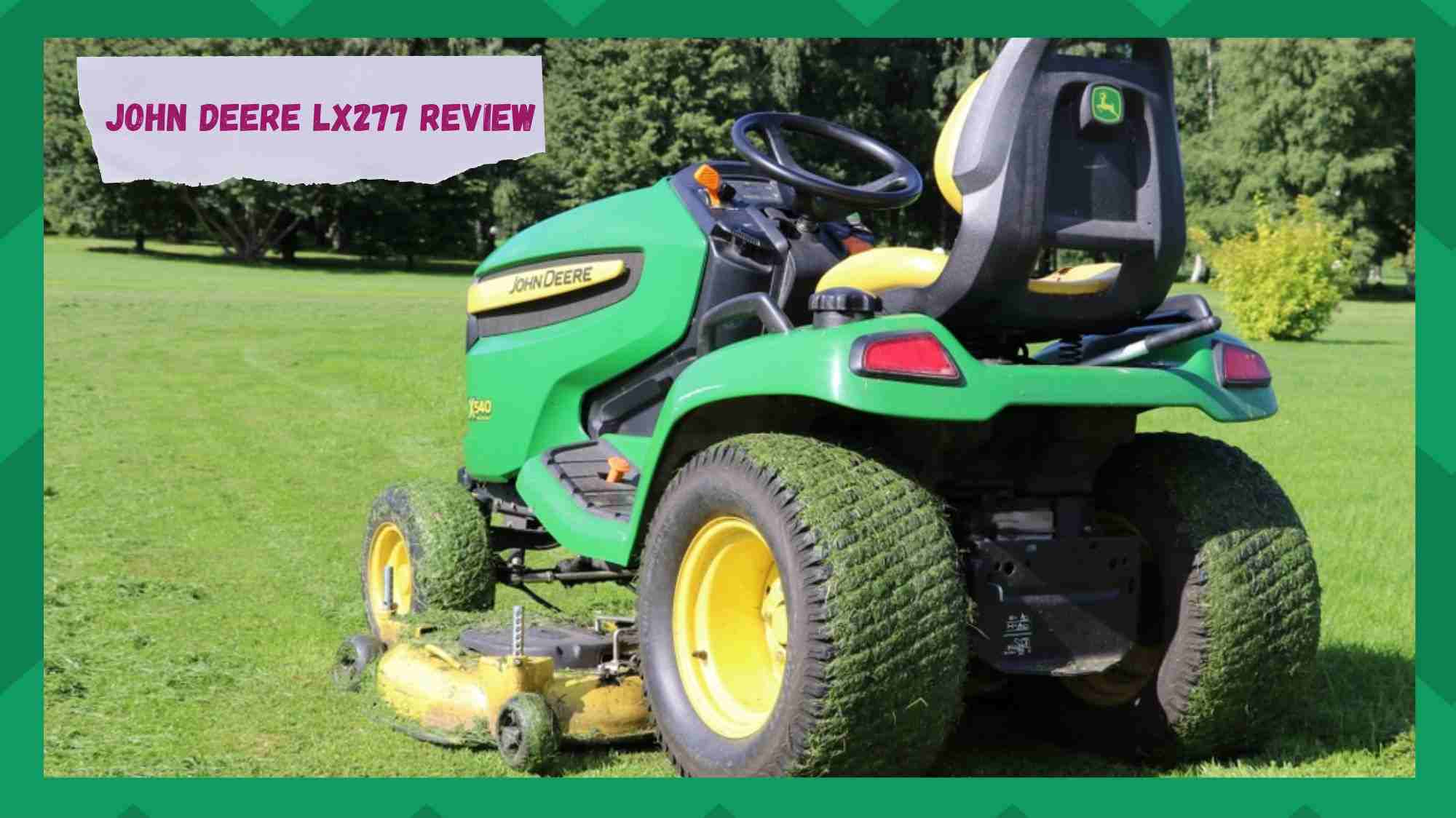 Having a lush green lawn free of pests is what every landscaper aspires towards. Not only does it add to the aesthetics of your house, but it also improves its worth.
However, a lawn requires your time and attention. In addition to watering, fertilization, and aeration, you must mow your lawn regularly to keep it in good health.
Gone are the days when you had to cut the grass manually. Today, we have lawn mowers that not only cut the grass evenly but also save you lots of time.
Regular mowing encourages the growth of healthy grass blades, thus improving the overall health of your yard. It keeps the grass at the perfect height to ensure proper nutrient absorption.
John Deere is among the most respected names in the lawn mower industry. The company manufactures a wide array of solutions for agriculture, construction, and lawn care. It came into being in 1837 and has established itself as one of the market leaders.
The LX277 is a popular lawn mower model used by thousands of landscapers. It was launched back in 2000 but still holds its own as a popular lawn mower. This article will discuss its features in detail.
John Deere LX277 Review
The John Deere LX277 is an incredible addition to the already great LX series by John Deere. Regardless of the size of your lawn and grass, this equipment will surely help you achieve perfect mowing. Let's take a closer look at its features!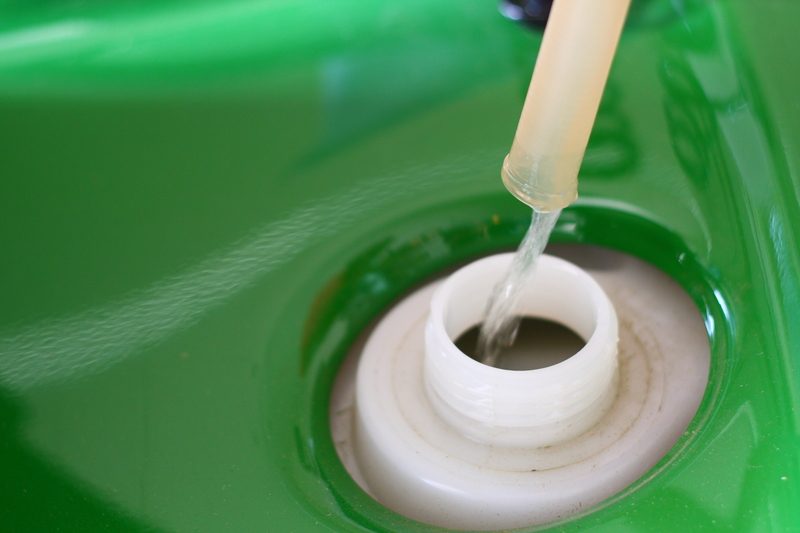 First things first, the John Deere LX277 lawn mower has a heavy-duty Kawasaki FH500V engine. Of course, the engine is the most important component of any machinery as it holds the power your lawn mower needs to function.
The more powerful the engine is, the better will be your lawn mower's performance. This engine may not be the most powerful engine in the market, but it gets the job done efficiently.
The engine of the John Deere LX277 lawn mower runs on gasoline. It's no secret that gasoline is a preferred option for many manufacturers nowadays. It delivers high performance while being easy on the wallet.
In addition to that, it is seen that the engines that use gasoline are less noisy than others. This will allow you to mow your lawn peacefully and keep you on good terms with your neighbors. Furthermore, these engines are quite easy to maintain, thus saving you lots of time and money in the long run.
Overheating is one of the most common problems often associated with lawn mowers.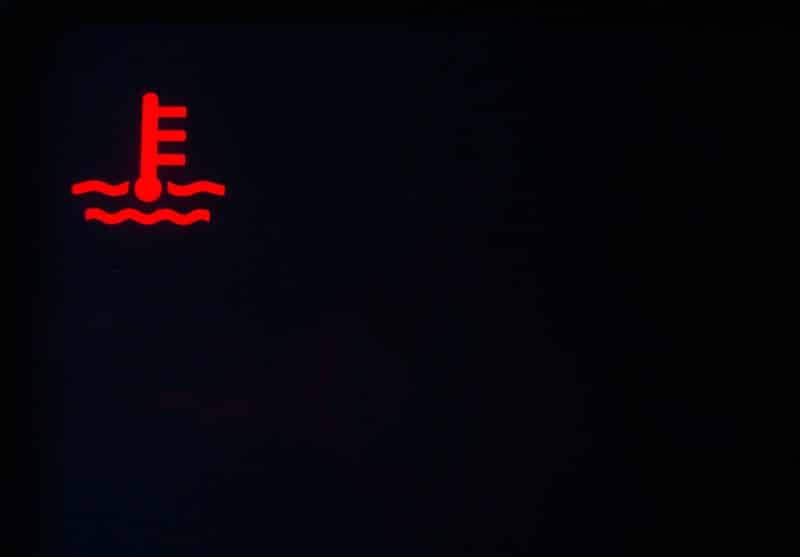 If you are sick and tired of using substandard lawn mowers that start overheating after running for several minutes, the John Deere LX277 lawn mower would be a great choice for you. Its air-cooled engine effectively dissipates the heat generated while mowing.
Additionally, since it has fewer parts, it tends to be more lightweight than its liquid-cooled counterpart. It is quite durable, too, and there have been no complaints regarding coolant leakage or freezing.
Lastly, the fuel efficiency of the John Deere LX277 lawn mower has also impressed many homeowners. Considering the hiking fuel prices worldwide, it will be an intelligent investment. If an engine consumes too much fuel, you won't probably like it, no matter how powerful it is.
The John Deere LX277 lawn mower is constructed exceptionally well for the ultimate performance. Its hood is made of a hard plastic called Xenoy, which has shown great rust resistance.
Unlike steel, it won't corrode over time. It feels quite sturdy and won't get dented easily, either. Rest assured that it can withstand abuse and harsh conditions.
The good thing about the John Deere LX277 lawn mower is that it has been built with your convenience in mind. It comes with an operator seat with a 15-inch high back to ensure your comfort. And yes, you can adjust it forwards or backward as per your liking.
The John Deere LX277 lawn mower can use a wide variety of attachments. From a snow blower to a thatcher, it gives you the option of attaching many attachments.
Want to plow snow, attach a snow blower. Dealing with a thick thatch, install the thatcher tool to break it down. Moreover, the front axle also works fine and lifts the attachments smoothly.
Having said that, it is worth mentioning that the attachments are not included in the package. So, you will have to buy them separately. They are readily available all over the world, and you can buy them from your nearby store.
The Twin Touch automatic transmission is another highlighting feature of the John Deere LX277 lawn mower. This transmission is capable of changing gears on its own while the lawn mower is running. Furthermore, the gears shift smoothly, and users have not reported any issues while using it.
The turning radius of the John Deere LX277 lawn mower is also better than most lawn mowers on the market. The 7-inch turning radius means it can take sharp turns, making it an ideal choice for people with small lawns.
The fuel tank of the John Deere LX277 lawn mower has more than enough storage. Fill it once, and it will easily last for several days.
There are many reasons to love the John Deere LX277 lawn mower, and its affordable price is one of them. It is certainly not the cheapest in the market. But considering its features and high performance, it surely gives you lots of value for your money.
Lastly, the John Deere LX277 lawn mower has an elegant look, thanks to its rounded counters. As a cherry on the cake, it has a scratch-resistant finish. We know that appearance is not an important consideration when looking for a lawn mower. However, it is always good to have a good-looking one.
The Bottom Line
The John Deere LX277 is a major upgrade to its younger sibling, the John Deere LX266 lawn mower. It was released in 2000 and has truly stood the test of time. It operates quietly while saving fuel, thanks to its superior engine.
From Twin Touch automatic transmission to engine cooling system, it boasts many ground-breaking features and gives you full value for money.