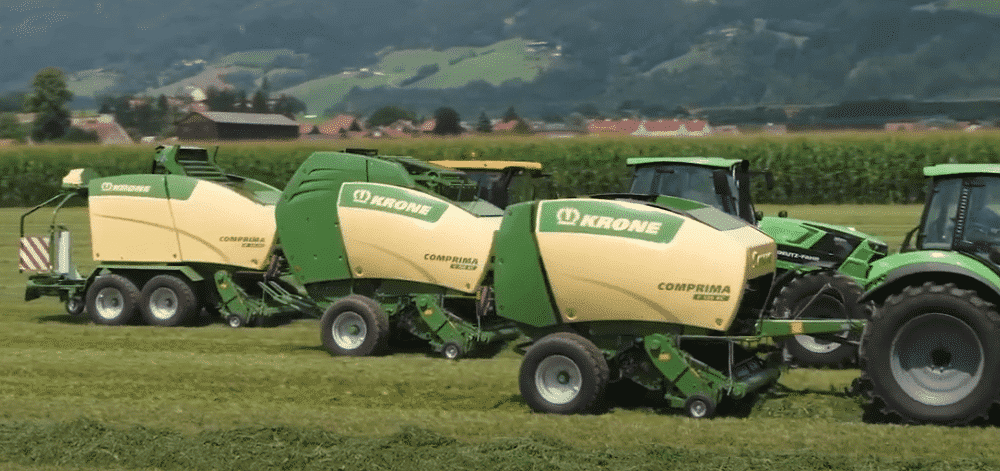 A round baler is a type of baler that has a number of uses in farming. It is actually the most common type of baler that is used in agriculture. It produces a round bale of hay which you can mostly see on any farm.
These cylindrical-shaped bales of hay can be found on almost every farm. The reason why it is so common is simply because of the benefit that it comes with. This shape helps protect the bay from inside. As hay can get ruined from weather, a rolled bay can stay longer outside.
Krone Round Baler Review
Krone is a very popular company known for all the balers that they provide, along with other machinery related to farming. You may have heard about Krone round baler from someone, or may also be thinking about buying one for yourself. Before you do, it is crucial that you learn about all the aspects of the baler. This should also help you in determining whether it is worth your purchase or not.
Today, we will be writing a review on Krone round baler. So, without wasting any more time, let's get straight into it!
Build Quality
One of the most important features of a baler is that it should be tough to withstand all kinds of environments. As some places may be rougher and harsher than the others, it is important that you buy a baler that is designed to run in these environments with ease.
Fortunately, the Krone round balers are designed to be tough. As Australian environments can be quite rough, these round balers should not have any problems while running there. Whether you want to bale hay in very wet weather, or completely dry weather, these balers should be able to do it.
Improvement with Every Generation
Even though the first generation of these round balers wasn't necessarily bad by any means, they still had their issues. For instance, the biggest disadvantage of using those balers were weird belt designs. Due to this, it was also a problem to run these balers in higher moisture conditions.
However, it seemed that with time, Krone learned from their mistakes and offered better improvements. These improvements were given by introducing a newer generation of balers. While there still are some slight improvements that can be made to them, these balers are no doubt a lot better than how they used to be.
Actual Performance
While we have talked about the baler's improvements as well as build quality, let's take a look at how the baler actually performs. While testing, we found the baler to be running completely fine. We ran the baler mostly on flat ground and it had no problems whatsoever in making hay.
Even for the price tag, the balers were quite decent and did most of the job that we threw at them. So, performance should be one of your least concerns while getting these balers.
User Review
Even the user reviews for the baler are mostly positive, with only a few of them having slight problems with the baler. However, none of them were really major and were actually due to the preference of the individual.
From what we have gathered from these reviews, the round balers offered by Krone are actually one of the better options. What stood out most in these reviews was how good the customer support of Krone was throughout every deal. Krone helped in every way possible to help satisfy their customers. Unfortunately, not the same can be said for the dealers. Some users even mentioned that don't bother getting the tractor if you don't have a good dealer.
The Bottom Line
There is no doubt that the Krone round baler is a solid piece of equipment for making round hay. Should you get it? If you are getting a good deal on it, then absolutely. However, there are some regions where you might be better off buying the alternatives, such as balers from McHales. But that is only if you can't seem to find any good deal on the Krone balers, or have issues with the dealer.
This was our review of the Krone round baler. For more reviews done like this one, we have tons of them in our website!