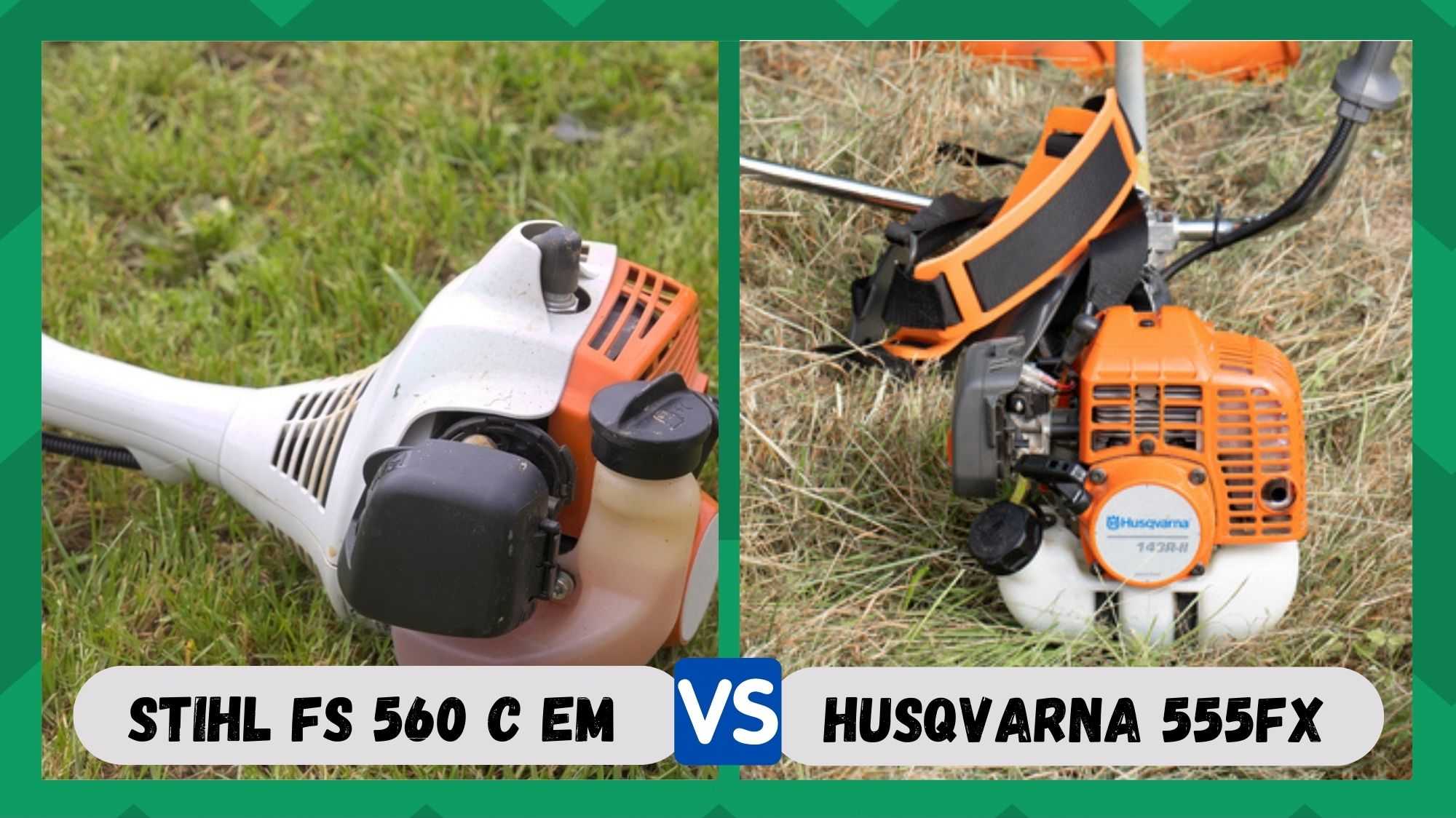 A grass cutting machine is a machine with one or more blades that is used to maintain a consistent height of grass.
Although this machine is built with a predetermined grass height, most models allow the operator to fine-tune the setting using a single master lever or individual levers or nuts on each of the machine's wheels.
If you have a lawn at your house, you've undoubtedly invested in at least one type of grass cutter to keep it looking neat. Although there is a wide variety of grass cutters available, each serves essentially the same purpose: maintaining a well-manicured grass.
There is a device available to meet any of your cutting requirements for grass. Choosing the right grass cutter for the job makes it easier to do the job and gives you better results.
Manufacturers of high-quality grass cutters, Stihl and Husqvarna are household names all over the world. The introduction of their respective grass cutters—the Stihl FS 560 C EM and the Husqvarna 555FX—has made them the talk of the town. However, picking one of them becomes quite challenging.
This article will help you choose between the two options by providing clear and concise descriptions of each. Let's not waste any time and get started!
Comparing the Stihl FS 560 C EM vs. Husqvarna 555FX
Stihl FS 560 C EM vs. Husqvarna 555FX
| | | |
| --- | --- | --- |
| | Stihl FS 560 C EM | Husqvarna 555FX |
| Weight | 22.49 lb | 19.62 lb |
| Color | Grey, Orange | Orange |
| Price | $1399.99 | $1499.99 |
Stihl – All You Need To Know
Stihl has been an industry leader for over 90 years, producing high-quality chainsaws and other garden power tools. It is no surprise that their products can be found in more than 160 countries across the globe; they combine cutting-edge technology with high-caliber design and outstanding customer service.
Stihl manufactures a wide variety of outdoor power equipment, such as chainsaws, cordless chainsaws, grass trimmers and strimmers, brush cutters, hedge trimmers, leaf blowers, jet washers, and more.
No matter your level of expertise or where you plan on using your Stihl power tools, you will find a product that is ideal for your needs among Stihl's wide range of offerings.
Stihl FS 560 C EM, a new product from the company, has generated considerable excitement in the marketplace. Now, let's get down to the product details!
Stihl FS 560 C EM
The FS 560 C-EM is the most powerful STIHL clearing saw in its class, capable of slicing through thickets, hedges, and other untamed vegetation. It is also built for heavy-duty use in the landscape and forest.
The STIHL FS 560 C-EM clearing saw is equipped with a low-emission engine that is 12% more fuel-efficient than the previous model.
Additionally, it has the STIHL M-Tronic engine management system, which ensures that the engine is always operating at peak performance by compensating for changes in altitude, temperature, and the state of the air filter.
Longer run lengths and fewer refuelings are possible thanks to a huge gasoline tank that is translucent and measures 33.5 ounces.
This tank is 31% larger than the one found in the previous model. The Easy2Start technology, which allows the engine to be started with very little pulling force, is also standard on this clearing saw.
The 4-point anti-vibration system provides superior control with less effort, and the swivelling, soft-grip handlebars make the bike convenient to transport and store.
Husqvarna – All You Need To Know
Husqvarna is a Swedish company that makes several types of outdoor power equipment, such as robotic lawn-mowers, chainsaws, trimmers, brush cutters, cultivators, and garden tractors. Established in 1689 as a guns manufacturing, it is one of the world's oldest businesses still operating today.
Husqvarna offers tools and equipment for use in professional settings such as parks and gardens. Battery solutions and robots are at the forefront of Husqvarna cutting-edge inventions, but all of them prioritize both performance and usability while also being safe and environmentally conscious.
The Husqvarna 555FX, a brand-new offering from the manufacturer, has sparked a lot of attention in the industry. Let's proceed to the details of the equipment now!
Husqvarna 555FX
Husqvarna 555FX's engine and starter were developed to ensure the machine may be started with minimal effort and in a short amount of time. Up to 40% of the resistance of the starter cord has been eliminated.
The Husqvarna 555FX's handlebar is ergonomically designed for maximum user comfort and features an adjustable height.
To facilitate quick and accurate manipulation, a thumb-operated throttle has been installed in Husqvarna 555FX. The weight is taken off the hand, relieving tension there.
The Husqvarna 555FX features an anti-vibration system called LowVib, which successfully cuts down on vibrations transmitted through the handle and throttle control. The ergonomic harness of the machine features a wide back pad, padded shoulder straps, and a hip belt to evenly disperse the weight being carried.
The Husqvarna 555FX is powered by an X-Torq engine, which improves fuel efficiency by up to 20% while cutting harmful emissions by up to 75%. For optimal cutting performance, the forestry-specific bevel gear and fast blade speed make it a top choice.
When power is removed from the device, the stop button returns to the start position so that the next time the machine is turned on, starting it up is as simple as pressing the button.
With the machine's cushioned grips, you may work for extended periods without discomfort. Because of the handle, it may be turned and used at a variety of angles.
Stihl FS 560 C EM vs. Husqvarna 555FX – The Basic Difference
Having a machine that is both lightweight and powerful is preferable for prolonged use because it lessens the strain on the user. The Husqvarna 555FX is the victor here, as it is both lighter and more powerful than its rival by a factor of 1 kilogram.
The cost is another variable to think about. Although they can be found at a variety of pricing points, the Husqvarna 555FX is preferable because it costs less than the Stihl FS 560 C EM.
These bush cutters share many of the same specifications, but with a few tweaks, you can tell them apart and select the one that best suits your needs. The Stihl is equipped with an automated carburetor, whereas the Husqvarna uses a more conventional one.
Therefore, the electronic carburetor may adjust the fuel-to-air ratio within the engine to better suit the working conditions presented by higher temperatures and higher altitudes.
The normal carburetors can't do it. When compared to the Stihl FS 560 C EM, the Husqvarna allows the user to oil the cutting heads' gear heads.
Despite superficial differences in appearance—a tweak made so as to differentiate the two machines for advertising purposes—the two machines are actually quite identical.
However, if a bush cutter has a lot of vibration, utilising it for long periods of time could be fatal for the operator. As a result, these two machines are quite steady and have low vibration, making it possible to operate on them for long periods of time without sacrificing productivity.
When clearing a big area of shrubs, bush cutters are an indispensable tool. When compared to utilising the sickle or other cutting equipment, this allows them to get more done in less time.
When comparing the Stihl FS 560 C EM to the Husqvarna 555FX, the Stihl FS 560 C EM comes out on top thanks to its wider cutting path of roughly 18.9 inches, making it 10 inches wider than its competitor.
If we compare this to the 8.9-inch operating breadth of the Stihl FS 560 C EM, we can see that the operator doesn't have to move around as much. It's also important to think about the user's height when making a purchase of one of these machines.
This is because they planned to use it for quite some time. When working with a Husqvarna, a tall individual may have trouble working at full height without bending over, which might cause back pain.
When comparing Husqvarna and Stihl, the difference is most noticeable in the harness, which is considerably more reliable and long-lasting with the former. As for the ease of use of the harness, the earlier model outperforms the Stihl.
The Bottom Line
Both the Stihl FS 560 C EM and the Husqvarna 555FX are excellent bush cutters, but the Stihl is more widely known for its reliability and the Husqvarna for its remarkable features and specifications. Now it's up to you to decide, based on your specific requirements, which option best suits your demands and budget.