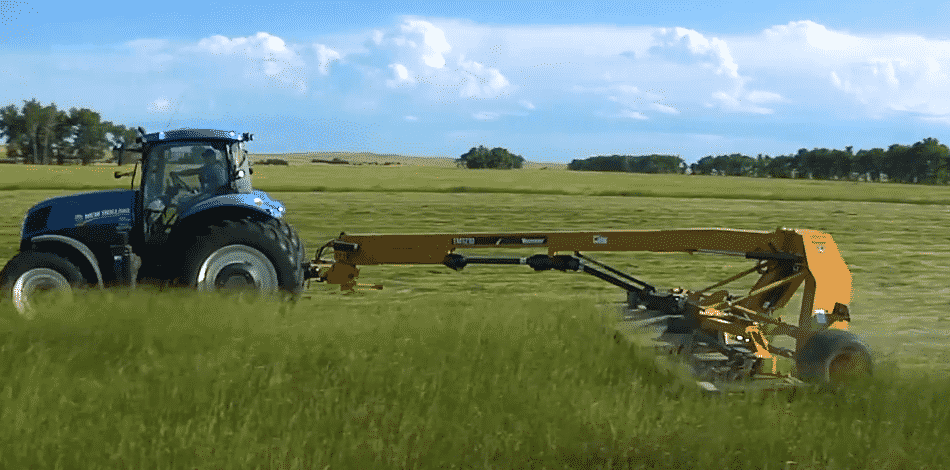 Mower Conditioner
Mower Conditioner offers a great way of making hay on a larger scale. Mower-conditioners come in a variety of different types. They are ideal for cutting and conditioning both grass and alfalfa. They are a crop conditioning system that can be used by any farmer.
However, what makes a mower conditioner so different from the others is how it manages to do this. By using a mower conditioner, you can easily crush and cut hay which should help you in optimizing drying. The mower-conditioner combines the effects of both a mower and a conditioner.
Disc Mower
A disc mower is a similar machine to that of a mower-conditioner. In fact, a disc mower can be considered as a sub-category to a mower-conditioner. A disc mower disregards the traditional design of a sickle bar design.
Instead, a disc mower has a number of small discs of blades that rotate at a very high speed. All of these discs are located on the top side of the cutter bar. Using either a shaft or a gear, the cutter bar will mostly slide on the ground. The cutting height of a cutter bar can be adjusted.
Compare Mower Conditioner vs Disc Mower
Comparing mower conditioner vs disc mower, both have fairly similar functionality. However, there are some key differences between the two machines that make one apart from the other. This is why most users get confused about which one they should end up buying.
Through this article, we will be comparing both of them against each other. The comparison is made to help you make a better decision on which one you should purchase. So, without wasting any time further, let's get right into it!
Functionality
One of the first things that you need to determine before buying the device is looking at the functionality of both these devices. Likewise, it is important that you note that a disc mower has only half the functionality of a mower-conditioner.
A mower-conditioner can help you by not only cutting the grass but will also help you dry the grass. It is just as we have mentioned above. The mower-conditioner combines the features of both a mower and a conditioner. On the other hand, a disc mower is only used to cut the grass. But then again, for most of the people out there, a disc mower is all they need.
Pricing
Both a disc mower and a mower conditioner have a completely different price tag. As a mower-conditioner has additional features, it comes with a hefty price tag as well. Similarly, choosing a disc mower will give you the benefit of being cheap.
In case you are on a budget, and just want a machine that can help you clear out your fields, then a disc mower might be the better option. Else, mower conditioner comes with the benefit of being able to dry out hay as well as cut them.
Accessibility and Ease of Use
One big reason why most users prefer using a disc mower compared to a mower-conditioner is that it is much easier to use. At the same time, it is much more accessible.
Sure, the mower conditioner does have additional options and features, but it isn't all that easy to use. Hence, before making the final decision, you will have to determine your use. What and how are you planning to use the device.
The Bottom Line
Comparing mower conditioner vs disc mower, these are some of the key details that you need to make sure that you know. Knowing them should help you with your decision for purchasing either of the devices.
If you are looking for our recommendation, we'd suggest you determine your use first. A disc mower can only cut the grass but is cheaper and easier to use. Similarly, a mower-conditioner can help you in drying hay as well but is more expensive and harder to use.