Growing plants is a fun hobby but the process requires a lot of knowledge about the variety you want to grow.
When it comes to this, every plant has its unique characteristics that should be kept in mind. Some people might not have the time to learn all of this which is why there are some other options.
Companies have recently started coming up with smart devices that can allow people to grow plants without having any understanding of their requirements.
These home growing systems can also be planted anywhere inside your house.
After the pods have been placed, switch the device on and let it run. Small plants should start growing within a day.
Gardyn is one of the leading brands that is known for its amazing home growing systems. These come with tons of features that can allow people to stay worry-free.
Though some users might be having trouble trying to purchase the Gardyn home growing system.
If you are running into a similar issue, then going through this article should help you out. This is because we will be providing you with some alternatives that can be used instead of Gardyn.
Gardyn Alternatives
Ingarden Growing System
Ingarden Growing System is one of the leading brands when it comes to growing microgreens.
This is a smart indoor garden that looks quite sleek. Most people use this in their kitchen because of the small design but you can place it anywhere you want to.
Keep in mind that the device should be kept powered on as this is necessary for it to work. When comparing this device with Gardyn, you will notice that the size is much smaller.
The Ingarden device works better for people that have a low space to work with.
Even the pod design is different as there are small pads that can be installed. These have to be pressed on top of the device and you can then power water over them.
Now hold the light above the pads and these should start growing. People can mostly get harvests within a week.
The only major downside of this device is its small size. Additionally, there aren't many features that can be used on the device. Finally, the varieties that can be planted are very limited.
iDOO Hydroponics Growing System is another famous brand that is known for its devices from the health and wellness industry.
The company has come up with tons of equipment and they have also recently started manufacturing home growing systems.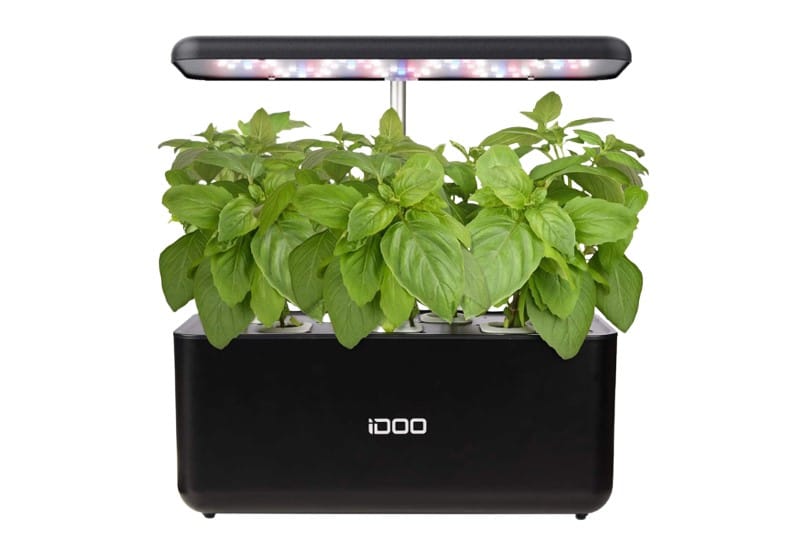 The smart devices from this brand are similar to the Gardyn system as most of the features are the same.
You have access to Wi-Fi capabilities that can be used to control the device from a distance. This also allows people to get notifications.
This is one of the main reasons why the iDOO Hydroponics System is a great choice.
People can mostly receive alerts whenever the water level and food compartments start to drop. This is amazing as you can keep your plant under control at all times and allow them to stay healthy.
The device also comes with several low-cost models that can be great for people on a tight budget.
You should note that these have fewer features on them and the support for pods is also low. Though depending on your usage these might suit you better.
AeroGarden Harvest Elite
AeroGarden is one of the most famous brands when it comes to hydroponic home growing systems.
Most people already know about the company, and you should note that there are tons of models that you can choose from. It is usually better that you visit their official website once.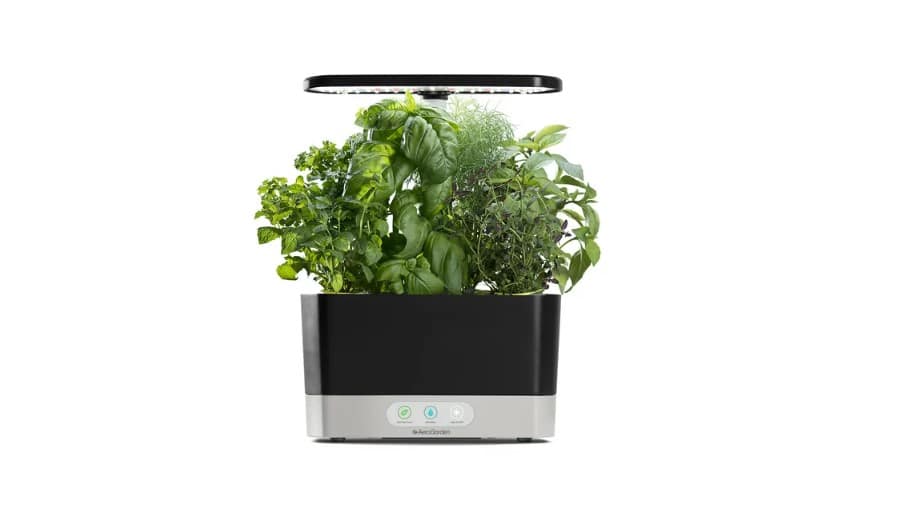 This contains all the information required regarding the different devices and helps people in purchasing one that suits their usage.
However, if you want to save time then the AeroGarden Harvest Elite is one of the top choices that you can go for.
Some of the main features of the device are that people can plant any variety that they want to grow.
This is possible because of the large size this model offers. Having sufficient spacing is essential when growing different types of plants in your growing system.
Most devices lack this spacing which is why there are tons of limitations on them.
If you notice that AeroGarden does not have the pods for the plant, you want to grow then you can sow the seeds on your own. Luckily AeroGarden also provides users with a kit that can be used for this.
Just make sure that the plant you are trying to grow will stay healthy inside a hydroponic system.
In most cases, you can avoid problems by using a plant food compatible with the variety. This is why make sure that you take your time checking these factors before you use your seeds.
The device also comes with a vacation mode setting that can be enabled in case you are leaving for a trip.
This keeps the device switched off during the night so that energy can be conserved. Moreover, the equipment will continue to keep your plants fed so that they can keep on growing.
Rise Gardens Growing System
Finally, one last option that you can go with is Rise Gardens Growing System. The company has several lineups that you can choose from but the main difference between them is their size.
The features on all the models are the same which makes it easier for people to decide on a variant.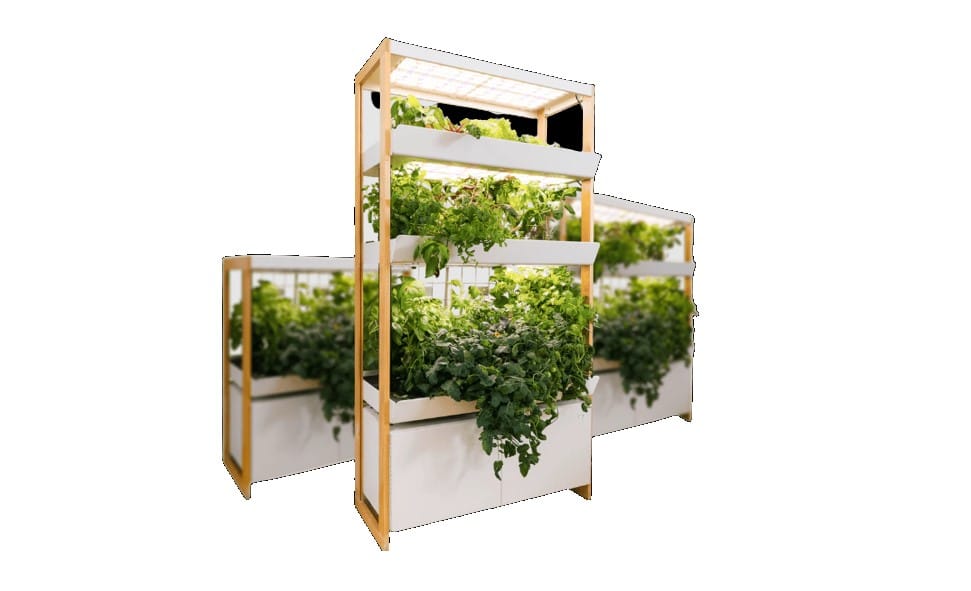 Keep in mind that the unique thing about this growing system is that they can be stacked on top of each other.
This causes some issues with the main one being people unable to grow tall plants. Other than this, Rise Gardens is easily one of the best options that you can go for when looking for these devices.
The vertical layout is also similar to Gardyn which is why tons of users decide to go for Rise Gardens instead.
This can be placed in any place inside your house because of its unique design.