Growing herbs, vegetables, and fruits indoors can be a lot of fun. Although, this can also be quite difficult as you can run into many problems.
When it comes to this, people should remember the characteristics of different varieties so that these can be taken care of.
Even though you are taking proper care of the plants, you can still run into some issues.
This is why brands have started coming up with home-growing systems that can be used instead. These keep a check over your varieties and ensure that they can be grown indoors easily.
There are tons of brands that manufacture these devices, but IDOO and AeroGarden are some of the best options that you can go with.
Both companies have tons of models that you can select from, although, people notice that there are also tons of similarities between these devices.
This is why some users can get confused between the varieties. If you are running into a similar problem, then going through this article should help you in finding some differences between them.
This is because we will be providing you with a comparison between these brands.
IDOO Growing System vs AeroGarden Growing System
| | | |
| --- | --- | --- |
| Home Growing System | IDOO Growing System | AeroGarden Growing System |
| Pod Count | 7 to 20 Pods | 3 to 12 Pods |
| Lighting Mode | Full-Spectrum Growth Lights | Full-Spectrum Growth Lights |
| Power Ratings | 23 to 34 Watts | 20 to 50 Watts |
| Soil Requirement | No (Hydroponic System) | No (Hydroponic System) |
| Seed Support | Yes | Yes (On Some Models) |
IDOO Growing System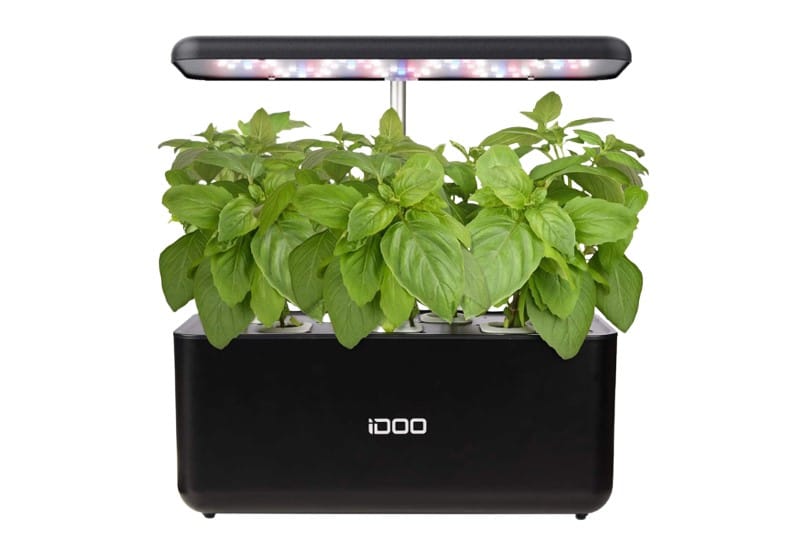 IDOO Growing System is one of the most popular devices that you can purchase when it comes to indoor growing systems. The brand has come up with 3 major lineups that you can select from.
The major difference between these devices is their ability to hold pods as well as their features.
You should note that the smallest model can hold 7 pods at a time, while the second one goes up to 12 and finally the last model has support for 20 pods.
Depending on your usage and requirements one of these models might suit you best.
With that being said, there are also tons of features that these devices come with. You should note that the growing systems can be bought in different styles.
This includes the option to select what color they come in. The black variant looks better but this can be slightly expensive compared to the other models.
Aside from this, people can also purchase grow sponges, replacement baskets, and an accessory set. The sponge pods can be used to easily take out the leftover roots from your plants.
These come in packs of 50 which are enough to last you several seasons without any issues.
You can also order additional sponge kits whenever required from the official store of IDOO. Aside from this, the LED grow lights on the tool are full spectrum.
This means that they can replicate the sun by changing colors and ensuring that enough heat is provided to the herbs being planted.
You can even set a timer and control it according to the level of heat required. This can be quite useful as you can select when the lights will run and when they should stay switched off.
Getting to the watering capabilities of this device, you should note that the IDOO growing system self-waters.
This means the machine will keep your plants watered on their own as long as the reservoir is filled up with enough liquid. The plants will continue to absorb the water which is why the levels should drop after some days.
For the best results, ensure that the tank is filled up constantly with fresh water.
Finally, the IDOO growing system devices come with a visual window that shows exactly how much water and plant food is left.
This can be used to refill the device quickly whenever the liquids start running low. As a result, your plants should stay strong for a long time without any issues.
AeroGarden Growing System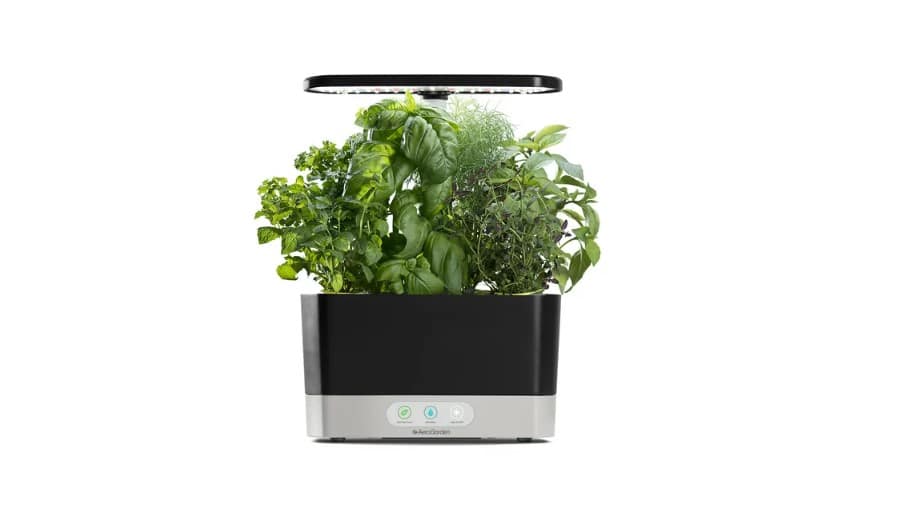 AeroGarden is another famous brand that is also known for its lineups of indoor growing systems.
These devices are quite popular, and they were also one of the first systems that you could purchase. Over the years, this brand has made several improvements to its devices.
Hence, newer lineups have come out that have a lot more features compared to the previous models.
If you are interested in purchasing a device from AeroGarden then make sure that you go through their lineups once. This should help you in getting the best features possible.
Aside from this, people should note that almost all models of the device come with spectrum lighting.
This is great and the wattage ratings usually vary from lineup to the lineup. The best model from AeroGarden currently runs on 50 watts that are used to grow 12 pods at a time.
The power ratings can be high for most varieties which is why the company also gives its users the option to lower these.
You can select the power rating depending on how much wattage is required and then change it through the configurations.
Some models of AeroGarden also support Wi-Fi capabilities which allow people to connect the device to their routers.
These can then be controlled from your mobile phone as long as you have the AeroGarden application installed and set up.
The feature is amazing as you can keep a check on your plants even while you are not at home.
Overall, both devices work great, and they should easily last you a long time. Though, people often question if the pods from these brands are supported by each other.
When it comes to this, you should be able to install pods from AeroGarden inside IDOO and vice versa however, there are tons of problems that you will run into regarding the size. This is why you should avoid doing this.
Going through the information provided above, most people should be able to decide which brand will suit them better. The choice comes down to the personal preferences and requirements of people.