A skid steer is a compact, multipurpose construction tool used for digging. Constructors and landscapers use it for a variety of tasks because it's light, portable, and versatile.
Joystick controls in skid steers make them easier to operate compared to larger heavy machinery. Even though the size is smaller, it is still more efficient to run and a more precise machine for smaller jobs. A skid steer's pricing is undoubtedly attractive for projects with limited resources.
New Holland – Who They Are?
The United States-based agricultural machinery company has been introducing machinery since 1895. CNH Industrial's New Holland brand of agricultural machinery is sold around the world.
The company manufacturing domain covers tractors, combine harvesters, balers, forage harvesters, self-propelled sprayers, haying tools, seeding equipment, hobby tractors, utility vehicles, and grape harvesters. The company's first annual report, dated 29 March 1904, showed profits of $1,859.40.
Selling success for New Holland Machine's stationary engines prompted the company to produce other farm machinery. From its inception, success was a part of the business.
The Skid Steer Introduced by the company has made the company the talk of the town. Not every piece of machinery or equipment can be a hundred percent perfect.  Despite being a reliable corporation, the skid steer invented by new holland does show some issues.
But they are pretty easy to fix the problem. Recently, users have been reporting that their new holland skid steer is not starting . This article will explain the solutions that will help you to begin your skid steer again. Let's jump straight into it!
New Holland Skid Steer – Not Starting?
1. Check Starter Voltage
Sometimes the most feasible solutions are hidden in the most unlikely places. A low starter voltage can also be the cause of the skid steer not working.
The ideal and suitable starter voltage for the skid steer is around 12. If you think that the starter voltage would be the issue, go and check it out immediately! A multimeter can be used for this.
You only need to line up the multimeter's probes next to the wires on your device and check the reading. If your starter's voltage is low, you must fix it to get it working.
First, look at the connection points and wiring clusters to find out what's causing the problem with the voltage level. Take care of rusty connections and damaged wiring hubs by replacing them and cleaning the connection points with new wires.
If the wirings are completely fine now, ensure the suitable start voltage is being provided to the skid steer. Then, try to start it again. Hopefully, it will start working without causing any more problems.
2. Check Safety Switches
There are a number of reasons for the New Holland skid steer not starting, and one of them is faulty safety switches. The skid steer is equipped with a wide range of safety switches to shield against significant failure. A malfunctioning switch prohibits users from working with their skid steer.
The only way to get the skid steer operating again is to check and bypass all of the safety switches. It is a pretty simple task to do, but if you are getting confused between safety switched or other, check out the manual of the skid steer.
Try to get your hands on a schematic diagram, especially of the safety systems. If the switch has more than two wires, you may need a specific combo of open and shorted.
If you cannot, then the safety switches should be immediately repaired in a workshop. There is a danger in ignoring the safety switches, so don't take a risk! If all else fails, you should purchase a new switch.
If the skid steer starts working after changing the safety switch, you should definitely be more than happy because getting a safety switch will cost you a bare minimum amount of money instead of buying a new skid steer.
But after that, make sure to pay attention to the New Holland skid steer's maintenance and use it clearly and concisely. Why? Because only then can you have the most effortless and fantastic experience in your task accomplishment!
3. Replace Battery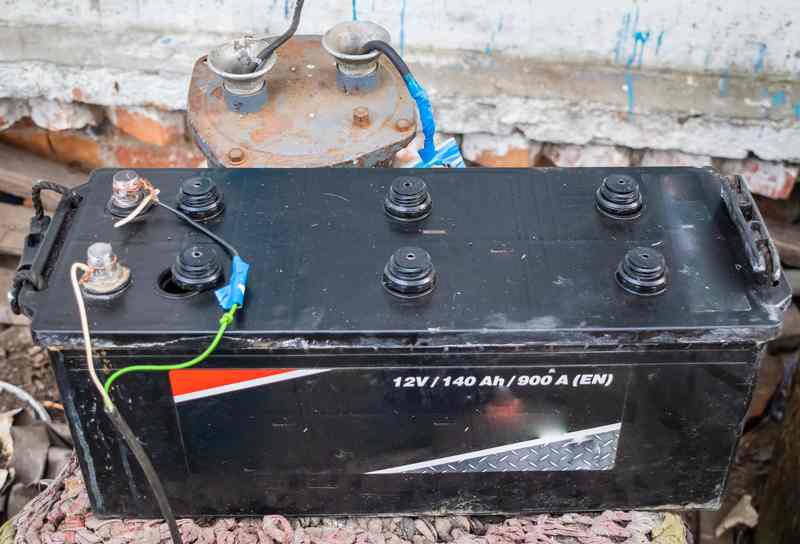 When the battery in your New Holland Skid Steers dries up, you'll experience the issue.   So, if none of the methods listed above work, you may want to consider buying a new battery.
Check the battery's integrity with a voltage tester just to be sure! A replacement isn't necessary if the power output is adequate. But if the unit's battery does not meet the system's requirements, you must replace it.
Sometimes steer-ride stops working because it has reached the end of its life span. Components inside the battery can malfunction, or environmental factors such as high humidity levels may expose moisture inside the unit and result in a short circuit.
However, it does imply that any battery of the skid steer is damaged, and the replacement of the battery will function the skid steer again.
But what if the battery is fine, and the skid steer is still not functioning correctly? That means that your skid steer is faulty. And unfortunately, you might have to change it.
New Holland Skid Steer – Unable To Solve The Problem With It?
If all of these fixes become ineffective, the only option you are left with is to get in touch with your skid steer's support staff. Make sure you give them thorough information about the issue. Establishing trusting relationships is the core of providing excellent customer service.
Be clear about the case, and support staff will provide an effective solution. If the problem is still not solved, you must immediately check your skid steer's warranty!
Each New Holland skid steer camera comes up with a warranty of 2000 hours of operation or one year. Check it out and contact the corporation. The team will contact you and inquire you regarding the skid steer, defect, and its warranty.
But before that, ensure the skid steer wasn't damaged because of your negligence or by a normal tear or wear. After successful validation, your skid steer will be repaired or replaced, and you're good to do miracles in your task with it!