Massey Ferguson is an iconic global brand known especially for its agricultural equipment. It has a long history of making farming equipment and has become one of the most well-known names in the industry. The company's long history dates back to 1847 and continues to this day.
Massey Ferguson has developed an industry reputation for quality and reliability, and it has loyal fans worldwide. You can buy Massey Ferguson tractors in your local retail store, or online.
If you're looking for a leading agriculture and farming machinery brand, look no further than Massey Ferguson. Featuring a world-class product line and a long-standing philosophy of providing more than just a machine, Massey Ferguson is the answer.
The company's high-tech solutions for professional farmers are backed by a commitment to quality, innovation, and superior customer service. With sales in more than 140 countries, Massey Ferguson is one of the world's most popular brands of agriculture and farming machinery.
Because Massey Ferguson tractors are the best in farming, you can use them confidently. The company's tractors are incredibly efficient, reliable, and perfect for farms.
They feature powerful engines that make them easy to drive over uneven terrain and carry heavy loads. In addition, Massey Ferguson tractors feature cast-iron front axles for strength and resistance to pressure.
Massey Ferguson Starter Problems
Massey Ferguson tractors have an excellent reputation, and the brand is well-known domestically and overseas. Despite their high reputation, Massey Ferguson tractors can develop a host of problems, which can delay your work and cause you to lose valuable time.
A faulty starter can put you hours or days behind schedule if you're a farmer who relies on his tractor. That's a big problem, especially when it comes to farming.
If your Massey Ferguson tractor has started to struggle, you might need to know how to repair it. For many reasons, a starter can be problematic, including a bad connection inside the solenoid.
You can perform the repair yourself in many cases, but you should know what you're doing before trying it yourself. If you're unsure, here are a few possible solutions. Listed below are several steps you can take to repair the starter on your Massey Ferguson tractor.
1. Try Removing the Starter
If you own a Massey tractor, you are undoubtedly aware of the problems these tractors can have. Although you can often fix most problems yourself in your farm workshop, there are many more complicated problems you can encounter.
If you're having Massey Ferguson Starter problems, you must remove the starter from the tractor while ensuring it stays connected. Bad electrical connections could cause this problem.
Check to see if the positive and negative battery terminals are connected tightly. You can tighten the connection with a screw between the terminal and the starter's connector if they aren't. Alternatively, you could check if the cable is loose.
Starters usually fail due to a combination of mechanical and electrical components. If you suspect this, remove the battery cables and replace them with a new ones. Fortunately, most of the problems you will encounter with your Massey Ferguson tractor are easily resolved by simply replacing these cables.
2. Try Boosting the Vehicle
Boosting a tractor can be helpful if you're dealing with starter problems. First, you need to be able to boost the engine sufficiently. If this is not possible, you can use another vehicle for boosting.
Jumpstarting your Massey can also help prevent Massey Starter Problems. If the problem persists, it's likely a battery issue. Another potential problem is loose wires or a bad connection. If you can't boost the engine, it's time to seek professional help.
Recharging or replacing the battery may be better if boosting works for you. While batteries are usually a reliable part of your Massey Ferguson, they can suddenly become depleted, leaving the tractor powerless.
3. Ring Gear and Teeth
Starter problems can also be caused by damaged ring gear and teeth. The problem may be in the ring gear or the Bendix part of the starter. If the teeth are damaged, then the gear will not mesh properly. To resolve the issue, you should check the electrical connections and ensure they are all in good condition.
4. Not Enough Power Going Through Solenoid
When it comes to the Massey farm tractor, one of the first places to check is the solenoid. This component is located in the starter and is responsible for starting the engine. If this component is not working properly, you may want to replace the solenoid.
If your Massey Ferguson starter is not starting properly, it may be the solenoid. Generally, this problem means that the battery is low. Try using a jumper cable to test the battery. The problem may be more complicated than a simple bad solenoid.
If this problem persists, you should contact your local mechanic. Most technicians will recommend replacing the solenoid if it is causing an electrical problem. You can use a wired replay to the starter circuit if you cannot find a replacement solenoid.
A weak clicking sound is another sign of something wrong with the solenoid. The solenoid is connected to the ignition switch, which is a thin wire. The solenoid can be connected to a wire in the ignition switch, so you should also check this connection.
The connection is only active when the ignition key is turned on. If the clicks sound weaker, a fault affects the solenoid or control circuit.
You can also test your tractor's solenoid by checking the charge level. To test the charge level, you can use a voltmeter. Connect the positive wire to the positive terminal of the solenoid.
The negative wire should connect to the negative terminal of the solenoid. You must ensure that all wires are connected and that all voltages are within normal range. Using the voltmeter will show if there's enough voltage.
5. Faulty Starter
If you are experiencing a hard start on your Massey Ferguson, it could be due to a faulty Massey starter. Those with an ill-functioning starter could also experience the banging sound of the cranking mechanism. In this case, you need to replace your starter.
6. Repair shop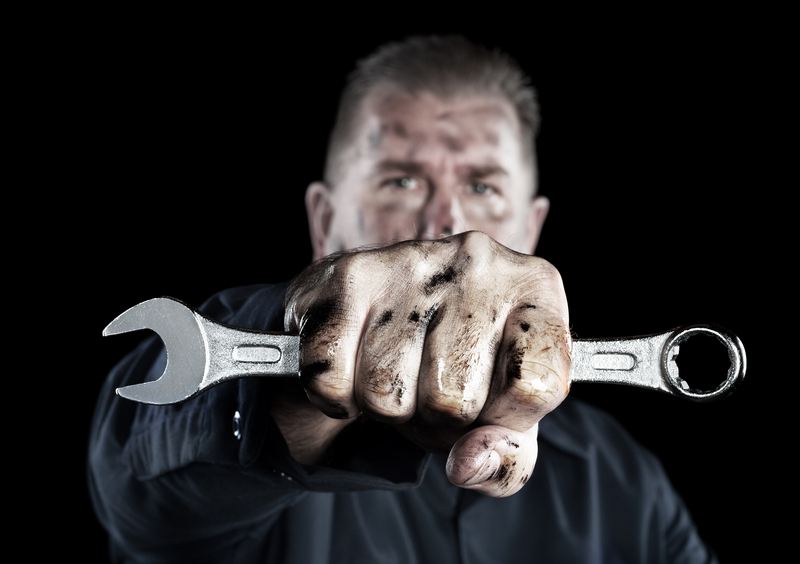 Finding a reputable repair shop for your Massey Ferguson is important if you have any starter problems. While some Massey tractor problems can be resolved in the comfort of your farm workshop, others require expert knowledge and special tools.
So, if none of these options work, you may have to take your Massey Ferguson to a mechanic.
The Bottom Line
If you have a Massey Ferguson tractor, you know how frustrating it can be when the starter does not work. A variety of symptoms often accompanies Massey Ferguson starter problems. To fix these issues, follow steps mentioned above.