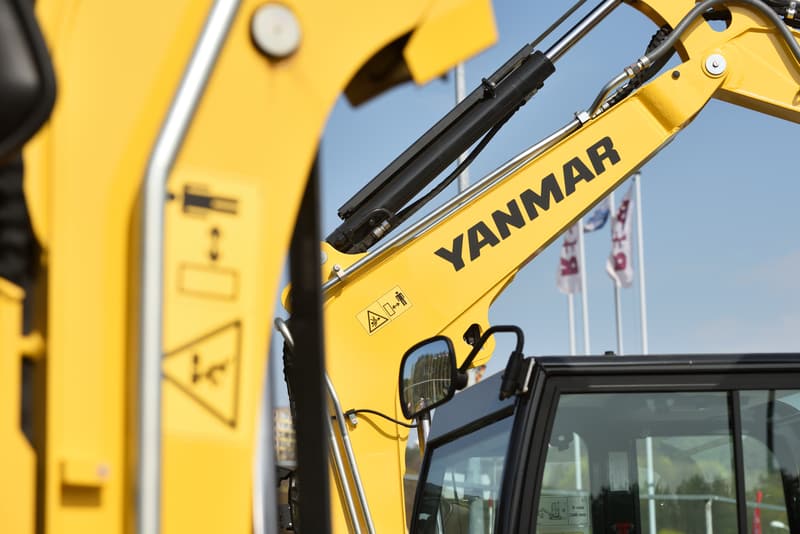 While the fuel efficiency might not matter much in smaller projects, it can cost you a lot when considering the long-term impact on extensive construction projects. So, if you're trying to upgrade the lineup in your construction setup, then going with efficient skid steers will add to the profitability of your business.
However, it shouldn't be your only metric, and you should try to account for power and weight distribution in the setup. The majority of the market is slowly shifting towards mini excavators from Yanmar because of their productivity.
More and more users seem to be interested in purchasing the Yanmar ViO35 for their smaller projects. The following review might give you a clearer picture of the popularity of these options.
Yanmar ViO35 Review
When it comes to a sleek and compact design, there isn't a better and more efficient machine for you to purchase. Yanmar claimed this model to be the best unit they have ever 0made, and it doesn't cost that much when compared with other options in the market. While the power and the digging depth on this unit might not be top tier, you will still get exceptional efficiency from the Yanmar ViO35.
This mini excavator is designed for smaller and quick projects that demand a unit that can work in tighter spaces. The quick coupler system on the ViO35 makes it the perfect option for users that struggle to change buckets. It will take a few minutes to change the accessories, and there isn't any excessive downtime in the project.
The unique selling point for this unit is enhanced productivity and exceptional fuel efficiency. It consumes around 22% less fuel than other brands in the market, and the smaller frame of this unit makes it a desirable option for millions of farmers across the nation. Customers further enjoy a compare operation control system that centralizes the operating details on a single screen.
Even though smaller units can be a bit more complex to service, Yanmar put special focus on making the layout simple and easier to access for all farmers. It takes minimal effort, and a few hours are enough to service the entire unit. This won't only ensure long-term performance, but you will also get a better rate on the resale market when you do look to upgrade the unit.
You can purchase the ViO35 in a variety of models, each with its own unique features and lifting capacity. In general, there aren't many differences in the pricing of these variants, and you will get one of two quality-of-life features that will make the usage more comfortable. However, when it comes to the basic performance, the overall value proposition isn't that different.
Overall, Yanmar ViO35 reviews are pretty positive, and there haven't been any massive issues with the unit. Professionals from the Yanmar customer support ensure owners with a secure purchase experience. In case of any issues, the dealer will help customers through the warranty claiming procedure. So, you won't have to concern yourself with a loss of investment on a unit with defective components.
How Does It Compare to Case Excavators?
When you look at the price point only, Yanmar excavators present a better option to the farmers. Users that need a unit for its efficiency and quick ground speed tend to move towards Yanmar because of its smaller size and more focus on fuel economy. However, when you look at some of the better construction companies that go through massive projects, the majority of these experts rely on Case excavators for their better build quality. The Case excavators are known for their increased lifting capacity and better durability over the years.
The perfect excavator for your company can vary depending upon the project demands of your construction line. As long as you prioritize efficiency over the lifting capacity and the weight of the frame, going with the Yanmar option is better for you. On the other hand, if you are more focused on demanding projects that require tons of lifting capacity, then going with Case will serve you better in the long run. Just try to evaluate the projects before spending your money on a more stable purchase decision. Hopefully, this will clear up some confusion on the final purchase.