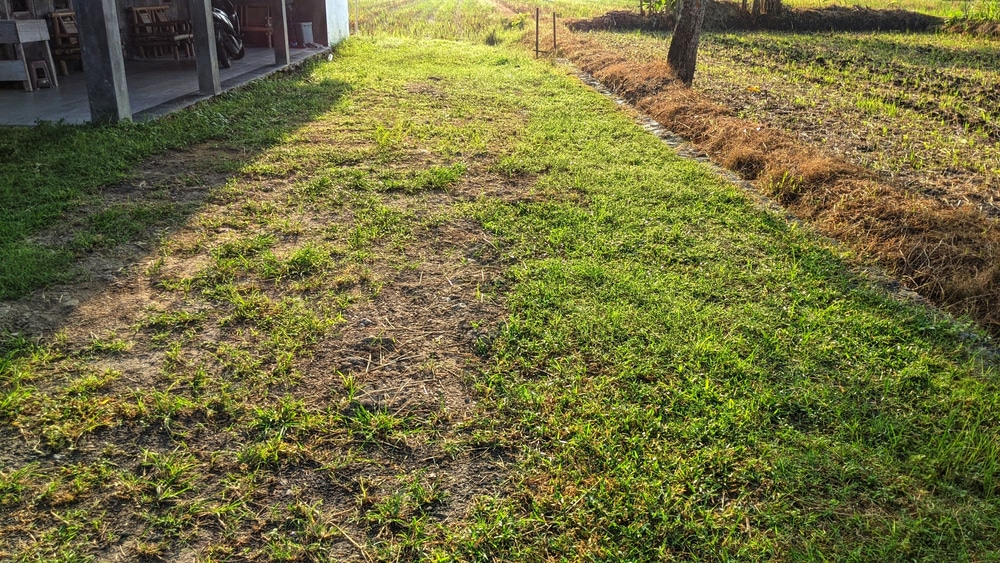 Having the layout planned beforehand will help you sustain the growth of your garden. You will know precisely where to plant the shrubs, trees, and other plants in your yard. So, if you're a beginner, start by developing a plan and then work your way by expanding the garden slowly. There is no need to start with 40 plants when you're new to this hobby.
A lot of beginners seem to be confused about what to do with areas of their yard that won't grow any grass. If you're confused about the same thing, then let us help you with a few solutions.
What To Do with Areas of Yard That Won't Grow Grass?
There are many landscaping ideas that can be implemented in areas of your yard that won't grow grass. If you want to keep the green theme going around the garden, then you have the option of using artificial grass to fill in the gaps. That way, all the dead patches will blend into the yard, and you won't be able to tell the difference. Similarly, you can create a raised bed by adding potting soil and easy-to-manage plants in the middle of your yard.
Depending upon the layout of your garden, having a raised bed will not only add to the beauty, but you'll be able to enhance the overall efficiency of your garden. So, if you're struggling with the efficiency of your garden, installing a raised bed might be the perfect option for you. It is true that this will be a lot of work, but you will be able to create a beautiful system of a raised bed in your yard.
If you're open to transforming the garden with innovative ideas, then you can always develop a patio, pond or cover it up with rocks. All of these methods don't rely on much maintenance, and you will be done with the system in no time. Depending upon your plans with the garden, a patio will help you maintain the aesthetic of your garden. However, if there are multiple dead spots throughout the yard, then covering it up might be a better option.
Creating a pond does require quite a bit of work, but once the pond is created, it will transform the outlook of your yard. So, if you have some funds to spare, creating a pond in your yard is one of the best things that you can do with areas that won't grow grass.
To Conclude
There are countless landscaping ideas that will perfectly match the areas of the yard that won't grow grass. From developing a patio to creating a pond, you can implement many projects to transform your yard. These projects will rely on a substantial budget but can be quite easy to manage over the long run.
On the other hand, if you want to maintain the current theme of the yard, try covering up the dead patches with synthetic grass. You can also use crushed rocks or gravel to cover up the dead areas, and the patch will blend perfectly with other parts of your yard.