The Bobcat loaders are globally acclaimed for their advanced and reliable features. The loaders are designed to offer smooth engine operation, and there is a huge variety to choose from.
Their loaders are adaptable, compact, and powerful machines, which makes them suitable for different farming and agricultural settings.
Bobcat 751 and 753 are the two most popular models but have different features and can be connected to several attachments to extend the functionality. So, if you have to invest in a Bobcat loader and don't know which one to choose, we have an in-depth comparison to help you make the right choice!
Bobcat 751 Vs. 753
| | | |
| --- | --- | --- |
| | Bobcat 751 | Bobcat 753 |
| Power output | 38 horsepower | 43.5 horsepower |
| Dump reach | 19.1 inches | 19.1 inches |
| Travel speed | 6.1 mph | 6.6 mph |
| Tipping load | 2400lb | 2599.3lb |
| Length with bucket | 120.5 inches | 120.48 inches |
| Fuel tank capacity | 14 gallons | 14.1 gallons |
| Operating weight | 4777.0lb | 4740lb |
Bobcat 751
This skid steer loader by Bobcat is designed with a power output of 38 horsepower and weighs over 2.3 tons. This loader was manufactured between 1994 and 2000. It is integrated with a four-cylinder diesel engine, and there is a 55-inch bucket for easier loading.
It has been designed with a quick hitch, which promises quick and convenient connection of attachments, such as grapple buckets, trenchers, Harley rakes, pallet forks, hydraulic augers, stump grinders, and more.
This loader operates on diesel, which means the loader has great mileage. In particular, it promises 25% to 30% higher fuel economy as compared to a gasoline engine.
The engine needs a liquid coolant to optimize the engine's temperature during operations. This loader also has a high-flow attachment option, which means you can use the power attachments.
Design
The loader has been designed with a power output of 38 horsepower, which means this loader can work on uneven and hard terrains without overheating, resulting in improved performance.
In addition, more horsepower translates into more torque, which improves acceleration. Since it weighs around 2.3 tons, it has a higher weight capacity and can hold over 567kg at once. In addition, there is a 55-inch bucket, which is big enough to hold bigger materials.
The driving seat is extremely comfortable as it can be adjusted according to the driver's height, and the controls are beginner-friendly. In fact, all the key buttons are placed on the control panel on the front dashboard, promising easier adjustment.
It has been integrated with a standard interlock control system which makes sure that your loader doesn't operate in an unsafe situation, such as if the guard or door is open. In addition, it makes sure that the guards and doors don't open during operation.
The engine is designed with a fuel tank capacity of over fourteen gallons, and it has a relief pressure of 2600PSI, which improves the overall efficiency. Also, the loader is designed with a hydrostatic transmission system which provides extensive speed control and dynamic braking.
The best thing about the hydrostatic transmission system is that it's beginner-friendly, as the lever is easier to shift. In addition, the hydrostatic transmission system improves power transmission to remote areas.
It has a ground clearance of 7.1 inches, which means the bottom parts of the loader won't touch the ground, reducing the chances of wearing. In addition, you can connect a dump bucket to this loader's hitch, which allows the users to place the materials at an elevated height.
Performance
The loader has been designed with a travel speed of over 9km an hour, promising faster working. It has been designed with a four-cylinder XUD9 engine, which is considered the best diesel engine with high power output.
In fact, the engine is lightweight, which doesn't increase the loader's weight, resulting in efficient maneuvering.
The engine has indirect injection and slow combustion burn time, which is why it can be used with SVO. The engine has been designed with a pre-chamber design that increases engine tolerance from viscosity issues.
The best thing about this engine is that it's more durable and reliable, and since there are no spark wires and spark plugs, the maintenance costs are lowered.
This diesel engine also promises higher torque, which means you won't have an issue with heavy towing. In fact, this engine promises exceptional fuel economy. It has a tipping load of 2400lbs, which means you don't have to worry about your loader tipping over during loading.
Bobcat 753
This is another loader designed by Bobcat, and it's considered to be the advanced version of Bobcat 751. The majority of features are the same, but the company has introduced some new features as well.
For instance, the hydraulic power has been increased, and the power output is 43 horsepower. This means that the loader has a higher carrying capacity and prevents overheating of the engine. In addition, 43 horsepower of this loader promises more acceleration.
It has a weight capacity of 600kg, which increases its efficiency without compromising performance or efficiency. This loader is a perfect choice for people who need an adaptable yet compact loader to perform farming and construction jobs.
Similarly, the universal hitch makes it suitable to connect thirty different attachments, including rakes, pallet forks, grinders, brush cutters, stump grinders, hydraulic drills, and more.
Design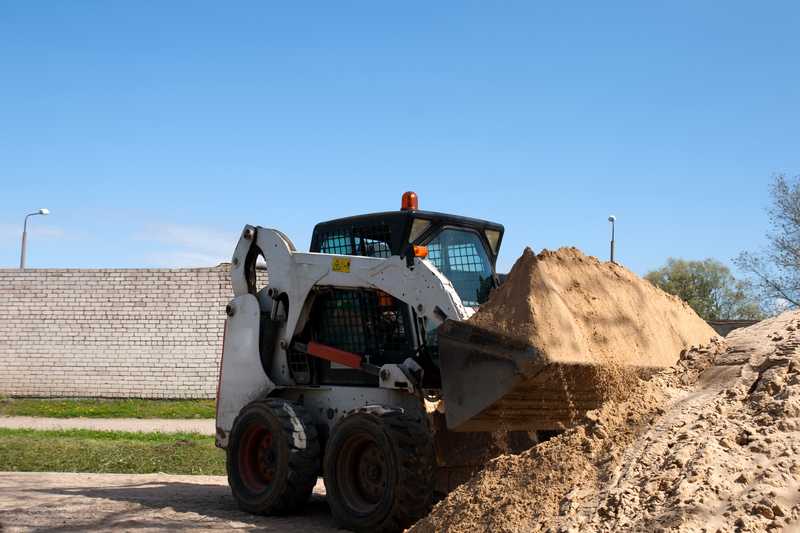 The loader is available in different configurations, so you can use it for farming, construction, and land clearing. It has a comfortable cabin design, which makes it easier for the driver to sit in and operate the vehicle.
In addition, there is optional heating and air conditioning option available, promising a comfortable user experience, irrespective of the weather conditions. There is an interlock control system, which means the loader won't turn on if the guards or doors aren't closed properly.
The users can select from seven different bucket designs, so you can choose a bucket according to the job. It has an improved seat bar, which offers protection while traveling, and the armrest offers sufficient support while driving (it pivots from the back).
In addition, the loader has a new work light, which offers 2x more lighting, so you can use this loader in low-light conditions. There is a cushioned seat that also has adjustable glow plugs.
It has a tipping load of 2599.3lb, and the diesel engine promises a 43.5 horsepower power output. In addition, it has an operating load of 4740lb.
There are fuel filters that work when the loader is operating to make sure the fuel is refined, promising improved fuel efficiency. There are joystick controls in this loader, which makes it easier to shift the gears.
Performance
The loader has an exceptional balance between mobility and power, which means you can complete sensitive and stringent jobs pretty easily. This loader provides 2x more lighting, making it suitable to be used in low-light conditions.
It has been designed with a dual-path cooling system, which helps save 50% energy during air conditioning and offers better humidity control in the cabin.
There are two hand levers on this loader that provides better control over speed and helps regulate the forward and backward travel speed. In addition, there are hydraulic pedals with a two-foot operation design to control the lift arms. Also, there are alternative hand controls in the loader that helps control the buckets.
The Bottom Line
Both these loaders by Bobcat are designed with advanced features and sturdy build. However, Bobcat 751 might feel slow on rough terrains as it has 38 horsepower output, while Bobcat 753 has 43.5 horsepower output.
In addition, Bobcat 753 is a perfect choice for people who need to use the loader in low-light conditions because of 2x more lighting. Overall, Bobcat 751 is suitable for occasional use, while Bobcat 753 is better if you are looking for more power output and advanced features.